Surfing Waikiki with Ellemer Swimwear
Crowds, yes. Newbs, yes. Fun Rides, most definitely, yes. While hoards of visitors flock to the waters of Waikiki on a daily basis, its waves are still fun enough to make the diving and dodging of soft-top boards worth your while. Waikiki was at the epicenter of the surfing movement that began in Hawaii decades ago. And the area still remains a colorful mainstay of the sport.
In the 1800s Waikiki was a retreat for the Hawaiian royalty who surfed here on early versions of the longboard. Hotels began opening in the late seventeenth century and after visits by such celebrities as Robert Louis Stevenson in the 1890s, the area became a popular destination for visitors from the American Mainland.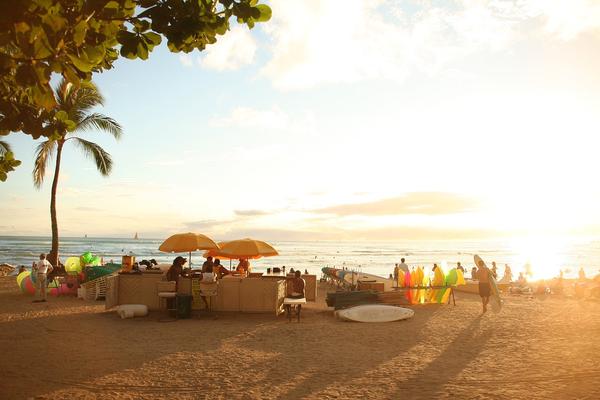 With majestic views of icons like Diamond Head and "The Pink Lady" (also known as the Royal Hawaiian Hotel), it is no surprise that Waikiki carries a certain nostalgia for those who've played in its waters. When you first arrive in Waikiki, the sheer amount of people all in one place is overwhelming. 
Visitors from all over the globe, lifeguards, surf instructors, and locals, all congregate here, albeit for very different reasons. For many visitors, that reason is to bronze in the hot Hawaiian sun and play in the blue Pacific water.
If you're looking for fun, sun, and long playful waves, Waikiki is the place for you.
Its peaks rival the best in the world for longboarding, and if your patient, you may be able to score some of the only rights on the south shore. Goofy footed? There are a number of lefts only a short paddle away. One of Waikiki's best features is the number of ridable peaks in such a small area.
Waikiki is just a short bike ride from our office in Honolulu, but if you're visiting, we recommend a stay at the historic Royal Hawaiian Hotel. Also known as the "Pink Hotel", or "The Pink Lady". Built in 1927, the Royal Hawaiian has held on to the character of old Waikiki unlike any other. The smallest and most colorful hotel on the horizon, The Royal is in a nostalgic league of its own. Did we mention its ocean-side  "Mai-Tai Bar" & pink cabanas?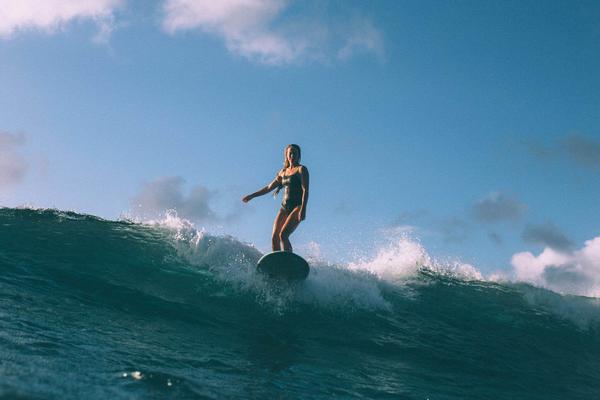 ---
What we wore while surfing Waikiki
The perfect little pink bikini is as fun and playful as the Waikiki surf. Its minimal coverage gives you the perfect tanlines and its comfy pullover style lets you go from surf to aprés sans wardrobe change.
Because when you're traveling, a little black bikini is a must. Our go –to bikini from surf to street and everything in between.
Sundress & Slippers 
(flip-flops…in Hawaii, they're called "slippers"): For those hot Hawaiian nights and as an easy cover-up for shopping after the beach.